Remembering Lee Calem
Remarks by Rabbi Norman Patz
Visiting Rabbi, Temple Beth Shalom of Puerto Rico
To be presented by Rabbi Michael Holzman
May 17, 2020 23 Iyar, 5780
The members of Temple Beth Shalom of Puerto Rico receive the news of Lee Calem's death with heavy hearts. For decades, Lee and her late husband Al were pillars of the congregation. They were members of the small group that founded the synagogue in 1967 and they remained
active for more than forty years, culminating in a co-presidency of the congregation.
I got to know them in 2007 when I first went to San Juan as one of the congregation's visiting rabbis. Lee and Al welcomed Naomi, my wife, and me and made us feel comfortable. They told us stories about the congregation's history and describing with their characteristic insightfulness the challenges facing the congregation as it transformed itself from an "Anglo" membership to one composed mostly of native Spanish-speaking Jews by choice, who brought amazing stories of their rediscovered Jewish heritage (or newly discovered love of Judaism),
reenergizing the congregation.
Lee was a good cook and a gracious host in their beautiful, art-filled apartment. Lee loved art and served as a brilliant docent at the Museum of Art of Puerto Rico, in San Juan. We were privileged to have her give us two full days touring the museum's marvelous collection, regaling
us with fascinating stories and insights. And Lee was passionate about books and about politics.
She was a voracious, perceptive reader and a committed liberal. She was great to talk to – and to argue with! Lee always spoke her mind. You never needed to wonder about her political opinions or cultural tastes. But, to the best of my recollection, she made no enemies in the congregation and people were always eager to "come back for more."
Although we never got to meet Lee and Al's family, it was our great pleasure to see the many photographs of them all on display in their apartment on Luchetti Street, and to hear the stories. She was so proud of everyone.
Not long after Al's death in 2013, Lee left the island to be near her children and grandchildren. She purchased a lovely home in Kensington, Maryland, where she became active in the community doing things she loved. When we visited her there, we saw how well she had made the hard adjustment back to the mainland without losing contact with her dearest friends of many, many years who remained in San Juan.
Lee was terrific. We loved her and were saddened to see how the years sapped her vitality and her vivid personality. On behalf of Temple Beth Shalom, the Reform Congregation of Puerto Rico, and personally, Naomi and I offer condolences to Lee's children, Andrea, Douglas and Mark, and to their families.
HaMakom y'naheim…. May God console you among the mourners of Zion and Jerusalem.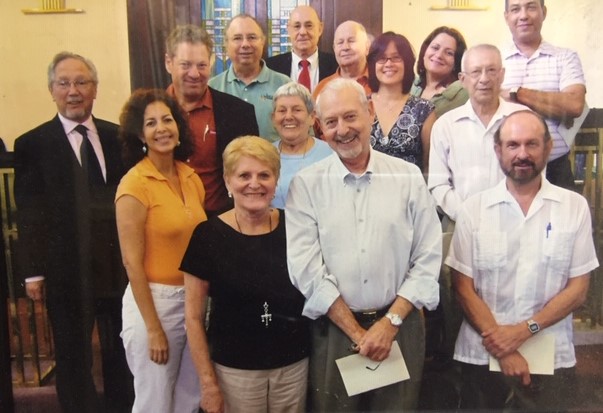 Board of Directors of Temple Beth Shalom during Lee and Al's co-presidency
From left to right:
Front row: Belkis Escribano z"l, Lee Calem z"l, Al Calem z"l, Marc Schnitzer
Middle row: Rabbi Norman Patz, Don Friedman Sue Klau, Ada Szeto z"l, George Mark
Back row: Arnold Benus, Arnold Gendelman, Jimmy Klau z"l, Alma Duran, Luis Sanchez