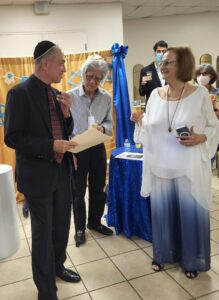 On Saturday, July 23, 2022, Temple Beth Shalom honored a living legend, Shula Feldkran Vollweiler, for her lifelong love, commitment and dedication to Judaism. Over the last forty years, Shula served as TBS president, vice president, principal and teacher of the religious school as well as Hadassah vice president of education. Currently she is a member of the board of directors, social action committee and spiritual coverage committee.
"Shula understood that the key to our success was to share the love of being Jewish," Rabbi Norman Patz wrote. He was among the illustrious visiting spiritual leaders, members of TBS community and family members who expressed their appreciation of Shula and what she meant to them in heartfelt messages. They spoke in person and in videos and letters written for the historic occasion attended by more than 70 community members and others, and by some who shared  in the tribute virtually, Rebecca Román, organizer and emcee of the day-long event, credited Blanca Hernandez with conceiving the idea of an event to honor Shula's legacy.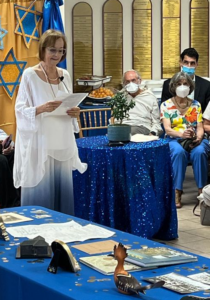 "Walk with her and you'll be wiser, your Judaism (will) grow deeper," Rabbi Roberto Graetz advised community members.
Diego Mendelbaum, spiritual leader of Shaare Zedek, attested that "Many of her students, today adults, still remember her as an outstanding teacher."
She teaches by instruction and by example," noted Blanca. Praise for her teaching talent was echoed by other speeches at the event.
"She gets things done around here," said Cantor Dorothy Goldberg, sharing her observation of Shula as an effective leader in a video tribute."
The event began at 10 a.m. with a Shabbat service led by Teresa Hernandez and assisted by Emily Krasinski in the sanctuary, followed by presentations at the Sue and Jimmy Klau Social Hall decorated in an elegant blue and yellow/gold theme with yellow roses everywhere.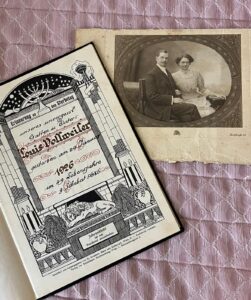 Shula gave a message of appreciation entitled "gracias a la vida," creating her own version of the Violeta Parra poem that both Mercedes Sosa and Joan Baez recorded. Attendees were captivated by the honoree's exhibition of artifacts from her Jewish life, including a model of the family home in Kfar Shmaryahu, Israel, crafted by her uncle Herbert Bluth, personal historical documents, photographs of her grandparents and the traditional trauer buch (book of memory, recording the anniversary of death of Shula's grandfather, Louis Vollweiler) kept by her mother, items of clothing from her school days in the village, as well as a tennis outfit she knitted (a craft she learned in Israel), and her ceramic sculpture inspired by Judaism.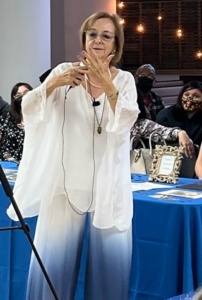 Shula proudly showed four rings she wore- wedding bands once worn by her maternal and paternal grandparents. She shared pictures of the Bar Mitzvah of her son, Julio Klapper that took place in San Juan with Rabbi Alex Felch, her native village's synagogue founded by her grandparents and the Western Wall. Kfar Shmaryahu was established by doctors, lawyers, businessmen and agronomists, all survivors of Nazi Germany, who became farmers in order to eke a living in the young country.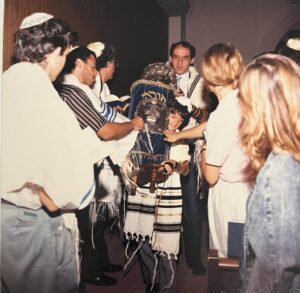 In a Q&A session, Shula explained that her mother, Ilse Feldkran, taught her the importance of conserving family documents and jewelry and to keep these historical treasures in a safe place, especially those related to the family tree.
The extraordinary activity featured typical Israeli food, a magnificent Challa baked by Trudy Acevedo, followed by a toast to Shula's legacy.