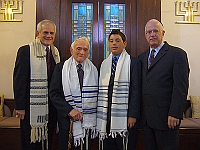 Today, many parents are opting to celebrate their child's Bar or Bat Mitzvah away from home. Traditionally, the choice has been Israel. But with the current economic and political uncertainty, other alternatives are often considered. We would like to offer another option: The facilities of Temple Beth Shalom, The Reform Jewish Congregation of Puerto Rico.We are a small (60 family), friendly, Reform congregation in the heart of beautiful San Juan, Puerto Rico. We can help you create a warm, unforgettable, religious and family experience.

B'nai Mitzvah Resources
The Art of Torah Cantillation – A Step-by-Step Guide to Chanting Torah by Cantor Marshall Portnoy and Cantor Josee Wolff
This unique, step-by-step book and compact disc package will lead the novice through each step of learning how to chant Torah. Divided into 13 lessons and additional useful appendices and bibliography, the book allows the reader to 'self-teach' the important principles of Torah cantillation. The only pre-requisite for this course of learning is a basic ability to read Hebrew and a willingness to learn! Includes CD of corresponding recordings.
This guide is designed to help you make the most of your Jewish journey. Focusing on the values that are most important in our tradition, you will explore together what commitments you can make to bring these principles to life. Judaism has a lot of special wisdom to offer, but only you can make it real.
Use your iPod for your Bar and Bat Mitzvah preparation: Torah and Haftarah portions available for download as MP3 files.
For more detailed information please contact us at
info@tbspr.org
or at (787)721-6333.