Bar/Bat Mitzvah at Temple Beth Shalom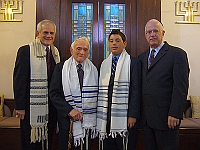 Today, many parents are opting to celebrate their child's Bar or Bat Mitzvah away from home.  Traditionally, the choice has been Israel.  But with the current economic and political uncertainty, other alternatives are often considered. 
We would like to offer another option: The facilities of Temple Beth Shalom, The Reform Jewish Congregation of Puerto Rico. We are a small (60 family), friendly, Reform congregation in the heart of beautiful San Juan, Puerto Rico. We can help you create a warm, unforgettable, religious and family experience. 
Our fee of $1,250* includes the service of our clergy, the use of our Synagogue and the wine and Challah for Kiddush after the services.
What can our temple do for you and your family?
We have the services of wonderful, distinguished retired rabbis and cantors to serve our congregation from September through June. They will work with your child and his or her tutor, Hebrew teacher or rabbi to make certain that he or she will be fully prepared to mount the steps of our bema with pride; knowing that all of the study has been properly accomplished and the ceremony will be truly meaningful.
Our sanctuary is beautiful. More important, we are a warm and caring congregation. We will make you feel that we are your second spiritual home. We have hosted many B'nai Mitzvas and have received glowing feedback from the families.
If your plans are to have the event as part of a cruise, we can help arrange transportation for the family and guests.

We can help you to arrange music, flowers, the Kiddush, etc.

Our president will present your child with an appropriate gift (candle sticks or a Kiddush cup) and a Bar/Bat Mitzvah Certificate.
We can take the worries and problems out of your hands so that you can concentrate on the joy of the day.
* Important: We are not running a Bar Mitzvah factory. Your child will need to be prepared, and our rabbis will help meet this goal. If your child is not working with a rabbi, Hebrew teacher, or tutor, additional fees to be negotiated directly with the rabbi may apply. Not all of our clergy are available for distance training.
A 50% deposit is required to separate the date.
Please fill out the following form to inquire about your date. You will not be billed until you are matched with a Rabbi or Cantor and you have agreed to work together.