5776 High Holidays
Visitor Information
Dear visitor,
We will be happy to welcome you to our High Holidays services. If you are a member of a U.R.J. affiliated congregation, all you have to do is bring your membership card or an official letter from your Temple stating that you are a member in good standing. There will be no charge, although donations are always appreciated.
Otherwise, the suggested contribution is $175.00 for individuals and $250.00 for families. Once payment is received we will reserve a seat for you and put your name on the visitors list.
To reserve seats, please send a check or money order to

Temple Beth Shalom
101 San Jorge St.
San Juan, P.R. 00911

You can also call 787-721-6333 to pay by credit card. We accept Visa, MasterCard, and Discover.

The following is the schedule of services. Feel free to contact the office if you have any questions.
S'lichot

September 5

8:00 pm Saturday

Erev Rosh Hashanah

September 13

8:00 pm Sunday

Rosh Hashanah Day I

September 14

10:00 am Monday

Tashlich

At the conclusion of the morning service

Rosh Hashanah Day II

September 15

10:00 am Tuesday

Shabbat Shuvah

September 18

September 19

8:00pm Friday

10:00 am Saturday

Kol Nidre

September 22

7:00 pm Tuesday

Yom Kippur

September 23

10:00 am Wednesday

Yizkor

Memorial Service Approx. 3:00 pm

Havdalah Service

Following the concluding service and sounding of the shofar

Breaking the Fast

At the conclusion of the day's services
---

ROSH HASHANAH GREETINGS FROM TEMPLE BETH SHALOM'S
SPIRITUAL LEADERS
I am honored to be joined in my High Holy Day wishes to the members and friends of Temple Beth Shalom of Puerto Rico by the rabbis and cantor who have served our congregation over the years. Their warm personal greetings, which appear following my thoughts, clearly show the love and affection and wonderful memories these rabbis and their spouses have for this very special congregation.
In this difficult time for our people in Israel, and for everyone who loves Israel and embraces democracy, I am scandalized by the insistent accusations that Jews have no claim on the land because our people was expelled at the time of the destruction of the Temple in Jerusalem by the Romans in 70 C.E. That accusation is totally false: Jewish communities continued to exist in the Land of Israel. Their presence is manifest in synagogues built before 70 C.E. (the earliest, while the Temple still stood), and others that date from as late as the seventh century, including Beit Alpha, Chorazin, Capernaum, Baram, Hamat T'veriah, Gamla, Beit She'an, Tzippori, Susiya, Gaza, Na'aran, Ma'on and others. The sites of these synagogues were excavated in the 20th century and their ruins (excluding Gaza) are visited by tourists to this day. Naomi and I, together with Robin and Rabbi Larry Rubinstein, visited virtually all of them over the years we jointly led Confirmation class missions to Israel.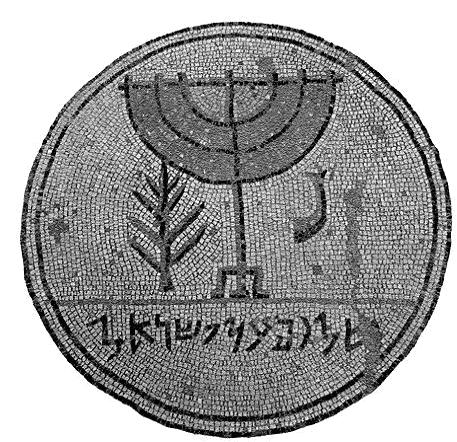 The mosaic pictured here, comes from the Jericho synagogue, the latest synagogue known from Late Antique Israel. The three-footed menorah has seven branches; on its sides are two of the other most important symbols of the Judaism of that era, the lulav of Sukkot and the shofar of Rosh Hashanah.
The Jericho synagogue was discovered in 1936 and, because of the Hebrew inscription at the foot of the menorah, was named the "Shalom ahl Yisrael" synagogue. After the Six Day War in 1967, it was controlled by Israel. Under the terms of the 1993 Oslo Accords, the synagogue was transferred to Palestinian Authority control, with Jewish visits to the site severely restricted. In October 2000, the synagogue and mosaic were vandalized by Palestinians.
In light of Operation Protective Edge, the bitter battle waged by Israel to protect its citizens from the rockets and tunnels of Hamas, the message of the Jericho synagogue floor can serve as our heartfelt prayer for the New Year:
!ישראל על שלום PEACE FOR ISRAEL!
Naomi joins me in looking forward to greeting each of you during the High Holy Days, which we are delighted to be spending once again at Temple Beth Shalom and wishing that 5775 be a sweet, peaceful New Year for all.
Naomi and Rabbi Norman Patz (TBS since 2007)
GREETINGS FROM MY COLLEAGUES:
We extend our heartfelt warmest wishes and much love to our many friends at Temple Beth Shalom as well as those connected from afar for a blessed Shanah Tovah u'Metukah, a year of goodness and sweet experiences! How deeply embedded in our hearts are the many fine memories of the Services we observed, the Simachot we celebrated, the joys and sorrows we shared, the hospitality you provided us, the personal stories you entrusted to us and the hopes and dreams we prayed would be realized some day! TBS enshrines kedushah, something very holy, in the way the stranger is welcomed, everyone is embraced and the feeling of kehilah (community) permeates every gathering. Your study of Torah is found in the many ways you and your families live as a Jews. Your special island is a mysterious "enchantment" connecting all of us. May you go from strength to strength with blessing!
Norma and Rabbi Don Berlin (2004-2008)
My dear friends of Temple Beth Shalom,
How well and how fondly we remember our days and visits to the Isla Verde and to the warm welcoming kehillah of Temple Beth Shalom. You embraced me and my family with open arms during those ten wonderful years of frequent visits. You watched as Marianne and I grew our family, from one with no children to one with three robust and rambunctious kids. No doubt, some of you remember the cute blond young woman named Samantha (our first born) and watched her grow from year to year. Just this past weekend, Samantha got engaged to be married and we couldn't be more thrilled. She is finishing her dual masters' program in Clinical Social Work and Education for children with learning challenges. Our son Jake was a professional ballet dancer and is now finishing his business degree and living in Montreal. Our baby – who you all welcomed in 1993, Zach, is finishing his degree in Neuro-Biology and will start medical school after spending a year in Japan next year.
Our family has grown and changed – and so has Temple Beth Shalom. You have been served by wonderful rabbis – each has brought something unique and special to San Juan. A new generation of leaders has risen to enhance the work of Beth Shalom in the community and for the community. And, miracle of miracles, you continue to grow and thrive and serve as shining examples of a dynamic Jewish life in a place where Jews are still a distinct minority. Your numbers are small but your impact is huge.
In this New Year, I extend my prayers to all of you and pray that you continue to go from strength to strength. Many years ago, my children grew up associating the High Holidays with the beach. I have now started to serve a community very similar to Temple Beth Shalom, this one in Nantucket. Even though my children are now grown, they can enjoy the High Holidays again with the beach as a backdrop – but for them, and for Marianne and me as well, Temple Beth Shalom of San Juan has a special place in our hearts and souls – you were certainly part of my history, and I am proud to have been a part of yours.
May this New Year find each one of you with renewed health and strength, blessing and joy.
Hazak v'ematz – Be strong and resolute as you continue the sacred work of building Temple Beth Shalom – a beacon of Jewish values and life in the heart of the Caribbean.
B'yididut (In friendship),
Rabbi Gary M. Bretton-Granatoor (1985 – 1995)
Vice President, Philanthropy
World Union for Progessive Judaism
Dear Friends,
Greetings from Durham, NC, where we are well and happy. These days I see a fair amount of Maxine Smith, with whom I share literary interests. What twists life takes! It has been some 15 years since we saw each other last. I think of you and my novice rabbi days fondly. I know that the community has changed since I was there, and I'd love to hear about it. Stan and I will be spending Rosh Hashanah in Westfield–still love that place, too. We are making a few trips up north, as we plan to relocate to Seattle in the next few years.
Rabbi Suri (Susan) Friedman (1996-1999)
As our new year approaches, I wish for all of you the joys of creativity, love, security, good health and, of course, music. With the beginning of each new year comes the opportunity to take a new direction and find new happiness. May the year 5775 bring you all of these blessings and more, and may we be happily reunited in 2015!
With much affection from
Cantor Dorothy Goldberg (2012, 2014)
My dear friends,
Joyce and I send you heartfelt greetings for a happy, healthy, successful and sweet New Year. We have had an eventful year, since we last saw you, as our youngest daughter celebrated her wedding in a joyful ceremony. Some may remember that she announced her engagement during a Shabbat Morning service at TBS. I also had the pleasure of witnessing, by way of Google+, the conversion to Judaism of several wonderful people who are now members of TBS. We rejoice in your growth. We think of you often, and look forward to joining you for a two month stay, beginning on the First Day of Sukkot.
May the New Year see our world move closer to peace, especially for our brothers and sisters in Israel.
Le'Shalom,
Rabbi Irwin Goldenberg
Estimados amigos,
Esperamos con ilusion nuestra llegada en Puerto Rico en Octubre. Les enviamos saludos para el Año Nuevo, con la esperanza que todos tengan buena salud y mucha felicidad.
Hasta pronto, y con mucho carino,
Joyce Goldenberg
Dear Friends,
Jean and I want to wish all of our dear friends, amigos, y amigas, a very healthy, happy and successful New Year. In spite of all of the turmoil, hatred and confusion in the world, it is consoling to know that Beth Shalom in San Juan, Puerto Rico, has been a haven of friendship, love and compassion to all who enter its doors. It has been a great joy and honor to have served this congregation. Jean and I look forward to seeing all of you when we return in Febrero, 2015.
con mucho amor,
Rabbi Jon and Jean Haddon (2009 – 2013)
The months of January, February and March of 2013 were among the most rewarding and happiest of our lives because of you, the congregational family of Temple Beth Shalom. We think of you as part of our family, just as you welcomed us as members of your own. We look forward to our return and a "family" reunion with those we already know and those who are new to TBS. We pray that the New Year will be one of satisfaction and the blessing of peace within your minds, your hearts, your homes and our congregation.
Warmly,
Rabbi Howard and Susan Kaplansky
To our dear friends at Temple Beth Shalom,
Linda and I send you our warmest greetings for the New Year.
Since we left you in 2004, we spent eight years in Waco, Texas, and in 2012 we moved (back) to Haifa, Israel. I, as a returning resident, and Linda as a New Olah. Now we both have dual citizenships, American and Israeli and we are proud of both.
We have very fond memories of our three years with you. Beth Shalom was a home for us, you, its members, were our family. We loved worshipping and celebrating with you, introducing new traditions, teaching and learning together, and Linda enjoyed the opportunity of leading the religious school.
So, on this occasion of the beginning of the year 5775 – תשע"ה we wish you all, old friends as well as new members, our heartfelt wishes. As I write these words, Israel is still battling for the safety of its citizens against a vicious terror organization that not only threatens us but also, unfortunately, brought death and destruction to its own people in Gaza. We pray daily for שלום על ישראל Peace for Israel, and we urge you to pray with us and with the entire Jewish people for peace not only for Israel but for כל יושבי תבל all the inhabitants of our world.
May the New Year bring peace, happiness and joy to you, to your homes, to Temple Beth Shalom, and to all of Israel.
I know that under the leadership of Rabbi Patz you will have most spiritually uplifting and significant High Holidays services. May all your prayers reach the Almighty and be fulfilled. Shanah Tovah, ,תכתבו ותחתמו לחיים טובים ולשלום – May y'all be inscribed and sealed for a good life and for peace.
Affectionately,
Rabbi Mordechai (Moti) and Linda Rotem (2001-2004)
Friends:
Robin joins me in wishing all of you at TBS a good and sweet New Year. We often think with fondness of the time we spent with you from 2004-2010. We hope this coming year will be a good one for everyone and for the entire family of Israel.
Shana Tova,
Robin and Rabbi Larry Rubinstein
May 5775 be a year of blessing for Israel and the world.
We think of you often and the wonderful time we had with the congregation.
Rabbi Arthur and Linda Starr (2011)
To the members of TBSPR
As the dawn of 5775 approaches, many threatening conflicts loom: in Gaza, Ukraine, Syria, Iraq. On the mainland of the US, racial tensions have been exacerbated. Congress is immobilized. The specter of gross economic inequality casts it shadow.
In times of turmoil, our High Holy Days offer the soothing balm of reflection, meditation, prayer, and communal gathering for our troubled, uncertain souls. With great pleasure, Beth and I reflect on our sojourns in the midst of the warmth of the TBSPR community. We are heartened that you will have the companionship of one another during the Holy Day season. We wish you individually and as a congregation a good and satisfying 5775.
Rabbi Frank and Beth Waldorf (2005-2011)
One of my rabbinate's great experiences was serving as the interim rabbi in Puerto Rico. What wonderful people! What a blessing to join in prayer with such good people! May God ever bless all of you. Shirley joins me in warm High Holy Day greetings.
Rabbi Bernard Zlotowitz
Shanah tovah u-m'tukah – Feliz y dulce Año Nuevo –
Best wishes for a sweet New Year!
Rabbi Patz will present two major sermons on Israel at Rosh Hashanah services:
at the Erev Rosh Hashanah service, "Understanding the New Landscape"
at the Rosh Hashanah First Day morning service, "Defending Ourselves Now"
We also call your attention to our alternative liturgy for the Rosh Hashanah Second Day morning service, In the Balance. It is a poetic, personal, introspective focus on the central theme of the Aseret Y'mei Teshuvah — the Ten Days of Penitence that link the beginning of the New Year with Yom Kippur, the Day of Atonement.
All are welcome.