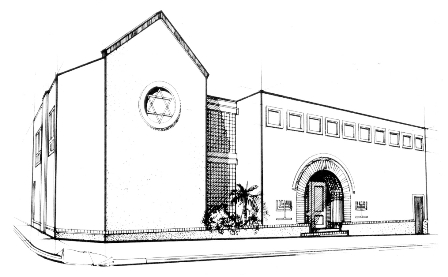 Origins
This information was compiled by Lynne Schwartz as told by Alvin Gross, one of the founding members of TBS, during a recent visit to the island.
In 1963, a group met to discuss forming a Reform Temple in Puerto Rico, as they were dissatisfied with the drift to the extreme right of conservatism at Shaare Tzedek, the only other Temple on the island. The group consisted of the Klau's, the Kleins and several other families. This group eventually organized a mass meeting at the Ponce de Leon Hotel on Ashford Ave.
The group had contacted the Reform Movement's central office in New York City and a rabbi was sent to Puerto Rico to help hold the evening meeting, which included a prayer service. About 300 people came and it was announced that the Reform Congregation of Puerto Rico was being formed. A few weeks later The Episcopal Cathedral in Santurce was contacted and they permitted us to hold Friday evening Shabbat services there, conducted by lay leaders of the community for about another year.
I remember that prior to the first service, about 15 people met at the Klau's, who then lived in Ptas. Las Marias. We were treated to a lovely dinner and off we went to the first Friday night service. Several groups were formed to organize a lay committee, a Sunday school committee, etc. I don't recall everyone's names, as it was 40 years ago, but it was a very committed group. We moved services to the Union Church and turned the space into a comfortable place for our worship services. We held several High Holiday services there also. Eventually we needed more space, especially for the religious school, and we decided to rent an old house on Ponce de Leon, across from Shaare Tzedek. It served as our synagogue, community center and religious school for about two years.
The name Beth Shalom, meaning House of Peace, was selected by a board of directors three or four years after the Temple was formed. Until that time it was only known as the Reform Jewish Congregation of Puerto Rico.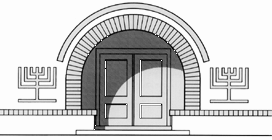 In the early 1970s, we became interested in purchasing a space for ourselves to have a sanctuary and a place for the religious school. We learned of the space that is presently occupied by Temple Beth Shalom. It was then occupied by a sports bar, Rudy's 10th Inning Lounge, and on the second floor there were three occupied apartments. There was a small space, also on the first floor, that we used temporarily as we were told that the bar would move out. However, the bar owner changed his mind and decided to continue his business over our objections. With a little pressure by some of our members, he relented and moved out.
The apartment residents also did not want to move, but after a year or so, they finally vacated the premises. A member, Bernie Reicher, who was a contractor, brought in his crew when the bar vacated and gutted the interior. (As a footnote, the chairs now in the social hall were also donated by Reicher and were the original sanctuary seating.) Over the next few months, various efforts were made to complete the first decorated meeting room combining both the back and original bar rooms. A full kitchen was installed and donated by one of the members. I left Puerto Rico in 1980 and a great deal of the current sanctuary and upstairs was completed subsequent to then.
The Rededication of 1991
by Gershon "Jerry" Feldman, Past President and Life Memeber of Temple Beth Shalom PR
There have been many significant events in the history of TBS of which the rededication of our temple was a singular event I think all of us who were involved with this event can be very proud.
With the renovation completed, after many difficulties along the way, we were ready for the next step. It was largely through the efforts of Harry Ezratty and Otto Decker that we got to that point. They devoted many hours ensuring that all the work was done correctly. Tom Marvel, our architect, deserves a medal for his vision, hard work and above all, his patience.
The highlight of our Rededication Service was the visit of the late president of the UAHC (now the URJ) Alexander Schindler. Considered one of the great Jewish leaders of the 20th century, for Schindler to accept our invitation was a real surprise, needless to say, a great honor. We also invited others who were influential in the development of TBS. Among them Rabbi Gary Bretton-Granatoor, and Cantor Amy Dattner who has enhanced our High Holy Day services for so many years. We also invited the late Rabbi Albert Schulman who was our guiding light through many of the early years. Our four-day celebration started with the placing and blessing of a new Mezuzah at the Sanctuary door, donated by Rebecca Chalfin. You can see the Mezuzah on the right side of the entry door of the Sanctuary. A beautiful cocktail party supervised by Gale Patron immediately followed. It was a beautiful evening, especially catching up with old friends who returned to Puerto Rico just to attend this special event.
Rabbi Gary Bretton Granatoor with Cantor Amy Dattner led Friday Shabbat services. Rabbi Schindler was the keynote speaker and spoke very movingly about the rededication of the temple. He had, at one point expressed to me, the strong feeling of spirituality he felt upon entering our sanctuary…something many have expressed since.
Saturday night we had a wonderful dinner-dance at the Normandie Hotel. It was a joyful evening, and we were pleased to have our friends from the St. Thomas congregation sharing in the celebration. The final event of the weekend was an informal Sunday morning barbecue at a local country club. It was a warm and memorable finale to this historical weekend in the life of our temple.
I was privileged to be President of TBS at that time, and I again want to thank everybody involved in bringing TBS to that point. It took a lot of hard work and dedication on the part of many, but I'm sure in looking back all would agree, it was well worth the effort.
Above all, my greatest thanks go to my wife Marcia who was always my right hand, and even more dedicated at every stage of my TBS Presidency culminating in the Rededication.