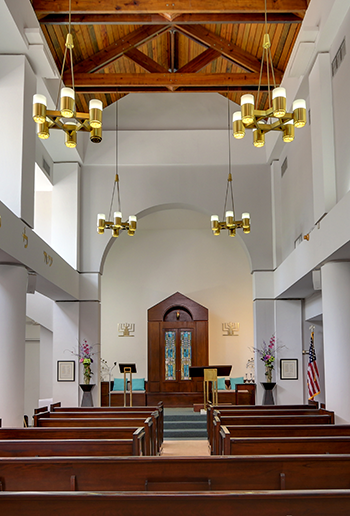 By Harry A. Ezratty
In 1971, the officers of Temple Beth Shalom decided to purchase a permanent home. At the time, the synagogue had been renting a two-story private house for a number of years, however it was termite-ridden and the stairs to get to the second floor schoolrooms were not functional.
So, committees were formed to look for new quarters. A real estate agent showed buildings on the corner of San Jorge and Loiza streets. A bar, "Rudy's 10th Inning Lounge," occupied the space where our sanctuary is now; the kitchen, social hall and gift shop were once a bakery. The bathroom space was formerly a small shop selling women's accessories and upstairs were several apartments, all rented.
Then-president Peter Jacobson, a building contractor, went to the bar to investigate the space's possibilities. Rudy Hernandez, owner of the bar (and ex-major league baseball player for the Washington Senators), was very upset when he learned we were thinking of buying the building. He had not paid rent to the estate of the deceased owner in more than a year. With the help of a loan from the Union of American Hebrew Congregations, the building was purchased and the other tenants moved out. However, it wasn't that easy to evict Hernandez, which took two more years of legal battles to achieve.
When the shul finally did take possession of the building, $26,000 was allocated to make renovations. The sanctuary had a simple wooden ark and congregants sat on the chairs now used in the social hall. Upstairs, some of the rooms were used for classes while one apartment was used by the synagogue's caretakers.
During Dr. Harold Schnider's presidency, the members committed to extensive renovations. Architect Tom Marvel drew up the plans and the sum of $140,000 was allotted for the work. After everything was said and done, the final tally for the renovations exceeded half a million dollars. Under the direction of presidents Harold Schnider and Barbara Ezratty, the money was raised by members and ex-members, via a variety of solicitations and fundraising activities, such as auctions, movies and other special benefits. Plaques in the social hall recognize the contributions made by these individuals. The Board of Directors never raised dues or levied a building assessment during all those years.
Ex-president Otto Decker led the Building Committee and another ex-president, Baylen Smith, headed the Sanctuary Design Committee. There was also a synagogue design committee. Others on the committees are listed on plaques in the social hall.
Some of the extensive renovations included the "store-front" look being removed from the entrance; the second story above the sanctuary being removed to give the space its soaring and spiritual effect; and the classrooms, kitchen, gift shop and bathrooms being redone.